Winter Travel Tips for Dog Guide Users
Winter is in full swing, and those of us who live in Chicago know all too well how unpredictable the weather can be during this time of year! People who are blind or visually impaired and use dog guides can experience unique challenges when out and about in cold and icy conditions. To see how they cope, I spoke with three dog guide users: The Chicago Lighthouse's very own Maureen Reid, Adnana Saric, and Brett Shishkoff. Maureen and Adnana are both long-time dog guide users, while Brett has only traveled with a dog for less than a year. Here is what they had to say about having warm and safe travels with your four-legged guide and friend during the winter months.
Maureen:
To me, foot protection is the highest priority during winter. My dog guide wears ruff wear boots that look like sketchers for dogs, which were provided by our dog guide school. I also purchased Paws protective footwear because my dog prefers them, and they protect his feet from salt and snow pack in his pads, although they are not as insulating from the cold temperatures. They appear to behave like deflated round balloons that wrap around my dog's feet. I also have a container of applicable foot cream similar to a product called "mushers secret." This is an ointment that is applied to their feet to moisturize and protect them from salt and can help prevent snow pack from getting stuck into their pads.
My dog guide also has a wool Pendleton style coat that was kindly donated to him by one of our Chicago Lighthouse Flair Fashion show designers, Woof in the Wool. It fits under his harness and does not impede his guide work.
Dog guide users should ensure their dogs have increased access to water, as it is dryer in the winter months and they might get dehydrated more easily.
Also, owners should do their best to balance out making sure they take dogs on working walks, even though they might not want to spend any more time in the cold than necessary. Dogs can get bored and mischievous, and their guide work may suffer if not given the opportunity to go out for a stroll. Dogs respond to this weather differently from one another. My retired guide used to bulldoze herself through the snow and then wrapped it up with a summersault onto her back, while my current guide is far less enamored with the snow and cold temperatures — he would rather avoid them all together!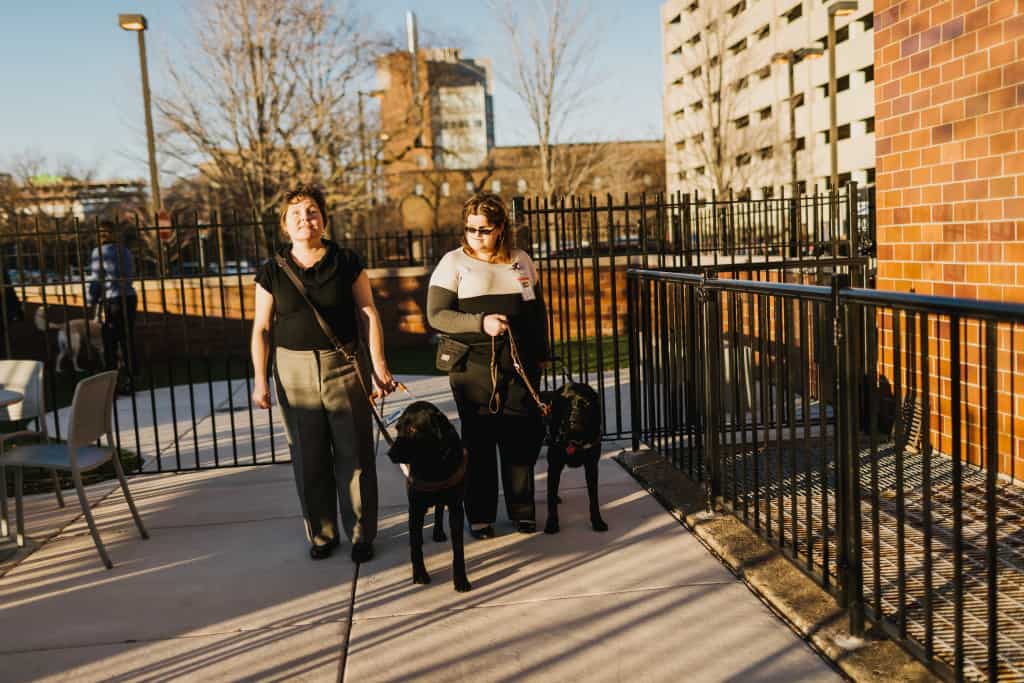 Adnana:
Traveling in extreme cold weather can be a challenge for a guide dog team because of the salt and ice on the ground, as well as the low temperatures. In order to make the travel more pleasant for both myself and my dog, I make sure to give us plenty of time to get to our destination. The extra time allows us to stay calm and on the same page when trying to work through any problems we might come across. I also make sure that I have plenty of treats and praise to reward my dog for his hard work. Just as we like to wear layers and winter shoes to stay warm, I make sure that my dog's paws are protected with dog booties or wax. In case of forgetting the shoes or wax, I make sure to wipe my dog's paws with a damp cloth when indoors to remove any sault and prevent irritation. I also make sure he is warm by having a jacket that properly fits from neck to tail. Lastly, I look out for the well-being of my dog and myself by using Paratransit, cabs, or other rides in order to spend less time in the extreme cold.
Brett:
I have worked with my Guide Dog Poet Since May of 2017, and have learned a lot during this first winter! When traveling with Poet, we didn't have much trouble until the frigid temperatures hit Chicago during the holidays. My dog guide school suggested that having a comfortable coat for the dog is a good idea once it drops below 20 or so. Each dog is a little different, and might be able to handle the colder temperatures better than others. Poet doesn't seem to be bothered with the cold until the single digit temperatures arrive. Also, having a good set of boots or paw protection of some sort is a great idea. Many individuals and businesses use rock salt, when clearing the area around their property, and that can get stuck in a dog's paws, causing some discomfort.
Regarding traveling, the dog will go out and do its job no matter the weather. I myself air on the side of caution and use transportation services like Paratransit, Uber, and Chicago's Taxi Access Program when it's cold and icy outside. We have to be safe and take some precautions in our travels. I tend to move a tad bit slower when out and about during winter, and I also always bring my white cane to help my dog find the opening through the snow to get safely to the crosswalk.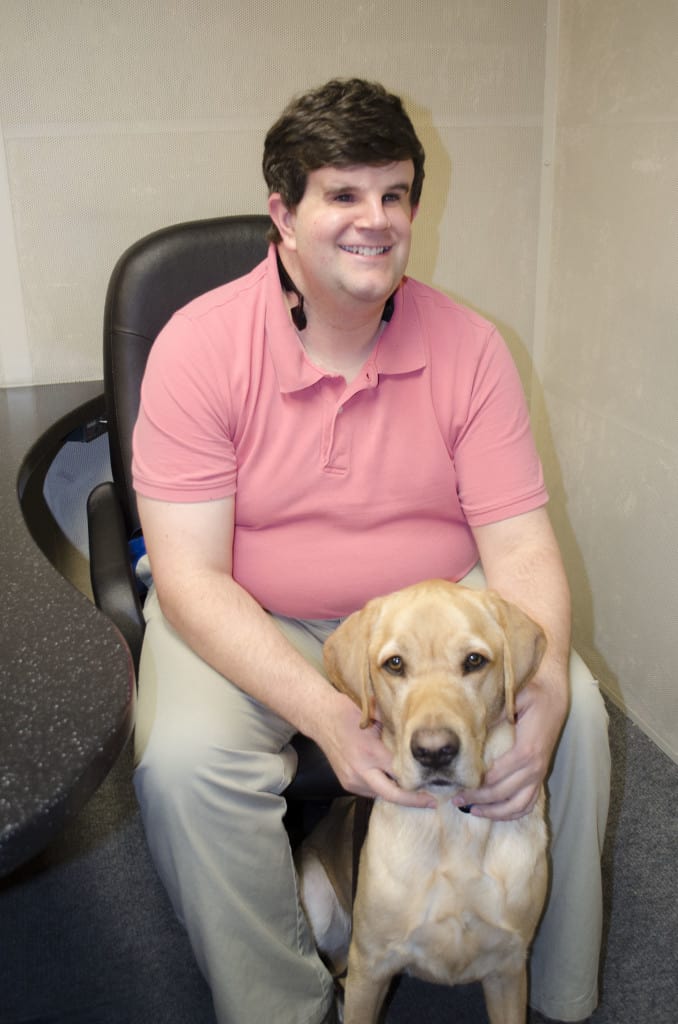 Do you use a dog guide or other type of service animal? If so what other winter travel tips would you share with fellow service dog users? Please comment below, or email me at sandysview@chicagolighthouse.org. You can also read my previous post about general winter travel tips for people who are blind or visually impaired by clicking on this link. Safe travels to everyone, and stay warm!